BACKGROUND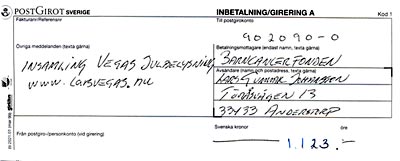 Tack alla som bidrog till detta!!!
The interest in decorating my house with lamps started after a couple of trips to the USA in the late 80s, early 90s. Over there, they not only decorate shops and stores, but also houses, trees and whole gardens. I remember especially one year, a couple of friends and I were over in Florida to play golf, when we passed by a house in a nice area. The house had lamps all over, I couldn't tell how many! There was a donation box on the garden fence, with a 'Thank You' from the owner to everybody for the money they contributed, as every penny was supposed to go towards the electricity bill.
That year I bought some lamps home with me to Sweden. There was only one difference, US lamps are 120V, in Sweden we use 220V. I had to get a transformer to convert the electricity, so I could power the lamps. An old friend, Björn Hedén had also started to decorate his house, he tried for some years but did not fulfil and gave up after a few years. It was then I decided to increase the amount of lamps on my house, and only American ones because my experience with Swedish lamps was not so good.
Even though I had to do some compromising at home regarding the decoration of the house, my wife allowed me to go on, but only with white lamps, not coloured.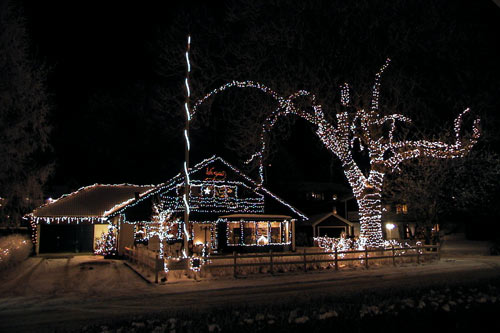 With every year came more and more lamps. On the house, on the garage, on the fence, on the roof, in the tree, well yes everywhere. I had to buy new transformers. Now I have a big box with specially connected wires and transformers, so everything works properly. The local electricity company helped me to get it right.
During the last years a friend of mine, Bengt Ström, has taken up the competition with me to decorate his house. We now have people coming to see our houses and comparing them with each other. Cars are passing slowly by outside to see what the houses will look like this year. We hope that people appreciate all the work we do in our gardens during the months before we light up. It is a massive task to get it all together.
We always light-up on the 1st day of advent, before that we only do testing.
By the end of 1990 I had reached 10,000 lamps, and since then the amount has increased to even more. This year, 2003 I have over 15,000 lamps!
I think many people find it amusing, the children love it and I have my neighbour's full support!
I would like to 'Thank You' for your interest in reading this page.
Please click on to My Guestbook and write some encouraging lines for next year!

Lars Vegas
Törås
Anderstorp, SWEDEN